Vineet Bhatia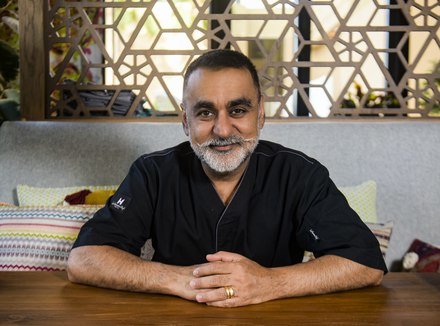 A Pioneering Legacy in the British Culinary Heritage.
The British culinary scene has long been a melting pot of diverse cultures, and in its rich tapestry of gastronomic influences, the contributions of Indian cuisine cannot be overstated. A significant figure in this cultural amalgamation is Vineet Bhatia, a trailblazing Indian chef who, through his Michelin-starred feats, has indelibly etched his name into the annals of British culinary history. Bhatia's outstanding contributions have not only revolutionised Indian cuisine in the UK, but also redefined the country's culinary landscape by showcasing the sophistication and variety of Indian gastronomy.
Early Life and Career Beginnings

Born in 1967, Bhatia's journey began in Mumbai. Initially harbouring dreams of becoming a pilot, fate intervened, and he redirected his focus to the culinary world after a brief stint with the National Defence Exam. His interest in cooking was sparked by his mother's passion for the craft, a torch that he took and elevated to the level of an international career.

Commencing his formal training in 1988 at the prestigious Oberoi School of Hotel Management in New Delhi, he went on to serve as Chef de Cuisine at The Oberoi from 1990 to 1993. Upon moving to London in 1993, he became the Executive Chef at Star of India, South Kensington, where he began making a name for himself. Critic Fay Maschler noted Bhatia's transformative effect on the establishment, attesting that he had elevated its cooking into a new realm, demonstrating the evolution potential of Indian food.


Groundbreaking Achievements

Bhatia's career took a significant leap in 1998 when he co-opened the Cinnamon Club with Iqbal Wahhab. After proving his culinary prowess there, he launched "Vineet Bhatia" in Hammersmith in 1999. The restaurant was applauded by critics such as AA Gill, who suggested Bhatia would be recognised as a superchef if he cooked French or Italian cuisine or originated from New York.

Not resting on his laurels, Bhatia founded Zaika in 1999, and by 2001, he had garnered the distinction of being the first Indian chef to be awarded a Michelin Star, further enhancing his reputation in London. His innovative spirit led him to establish Rasoi in Chelsea in 2004, which was soon awarded a Michelin star in 2006.


International Expansion and Recognition

In his relentless pursuit of culinary excellence, Bhatia brought his innovative Indian gastronomy to Geneva, Switzerland, with the opening of Rasoi by Vineet in 2008. This restaurant was also rewarded with a Michelin Star in 2009, making Bhatia a pioneering figure as the first Indian chef with two Michelin stars. The expansion continued with the opening of Saffron Lounge in Doha, Qatar, in 2012, followed by his establishment in Dubai, Indego, and later, his first restaurant in Saudi Arabia, Maharaja by Vineet.


A Culinary Ambassador

Bhatia's impressive culinary empire currently spans eleven restaurants, including his signature KAMA by Vineet, which graces Harrods' dining hall in London. In addition to his successful restaurants, Bhatia's influence is felt in the media, where he serves as a judge on Netflix's show The Final Table and as judge-host on MasterChef India.

His achievements have also earned him official recognition. In 2021, he was appointed as the culinary Ambassador for the GREAT Britain & Northern Ireland campaign, a testament to his significant influence on British culinary heritage.


Authorship and Pedagogy

Bhatia's love for his craft extends beyond the kitchen; he has penned two cookbooks, "Rasoi: New Indian Kitchen" and "My Sweet Kitchen", further spreading his passion for innovative Indian cuisine.

In conclusion, Vineet Bhatia's legacy is more than the Michelin stars and the acclaim he has amassed over his illustrious career. He has played a pivotal role in the evolution of Indian cuisine in Britain and beyond, cementing its place in the pantheon of fine dining. His tireless innovation and creativity have not only made him an ambassador for Indian cuisine but also for the British culinary scene, redefining how Indian food is perceived and appreciated worldwide.
---
Reviews (0)
No reviews yet.