Hello! (magazine)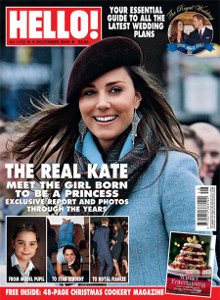 Hello! is a royalist weekly magazine specializing in celebrity news and human-interest stories, published in the United Kingdom since 1988. It is the United Kingdom local edition of ¡Hola!, the Spanish weekly magazine.
Editions
Hello! was launched in 1988 by publisher Eduardo Sánchez Junco, owner and chairman of Spain's ¡Hola! magazine. ¡Hola! was created in 1944 by husband and wife Antonio Sánchez Gómez and Mercedes Junco Calderón.
In 2006, Rogers Media launched Hello! Canada. In 2007, the Madrid office reorganized and changed out the management for the Canadian version.
Hello! Thailand is a bi-weekly Thai lifestyle magazine targeted at women aged 21 and over, launched in March 2006. The magazine focuses on royal news, celebrity and entertainment features. Circulation peaked at 300,000 in 2006 and was at 100,000 copies nationwide in 2017.
Website
Hellomagazine.com is the official website of the weekly celebrity news magazine Hello!, and the UK's leading celebrity news site. Started in 2001 to complement the magazine, the site is updated throughout the day, seven days a week.
History
Launched in April 2001, it is part of the larger Hello! brand, but contains completely separate content to the weekly magazine. It reports celebrity news on an hourly rather than weekly basis. Since it launched with the magazine's trademark bold color palette it has undergone a redesign which has made it feel lighter and brighter. By January 2008 over 1.5 million readers were using hellomagazine.com.
Content
The site provides readers, about half of whom are women under 34, with photos, news stories and video content divided into the following categories: actors and actresses, musicians, fashion and models, royalty and statesmen, celebrities, health and beauty and travel.
Daily content ranges from coverage of the latest happenings in the lives of Hollywood stars like Brad Pitt and Tom Cruise to English talent such as Hugh Laurie and Keira Knightley. It features comprehensive picture galleries of all the main fashion shows, special events such as The Oscars and an extensive list of quizzes on famous people.
The horoscope section is provided by British astrologer Jonathan Cainer. There are also visual news updates (News In Pix), profiles on musicians, actors and actresses and statesmen, short interviews and a comprehensive mini-biography section focusing specifically on UK names.
It is particularly known for its coverage of European royals, including far flung branches of lesser known families.
Hellomagazine.com provides celebrity content to Yahoo!.
Online reader services include a news feed, a tickertape, social bookmarking and online shopping.
---
Reviews (0)
No reviews yet.